Top 5 lady gaga outfits
When it comes to Lady Gaga, you would just have to agree that she has, with time, given us a visually appealing gift of meat dresses, bubble dresses and crazy hair topiary. Seriously, what has this beautiful lady been thinking? In just a short period of time, she has come around to be known as 'queen of crazy couture', but to tell you the truth, she's literally outdone some of the most finely dressed stars and celebrities out there. For Lady Gaga, it would be apt to say that there's never a day when she just puts on an outfit – she only ever comes down to wearing outstanding creations. This outrageous star gave a kick start to her on-stage persona a very long time ago – even before her first album came out back in the year 2008. She continually performed in small dive bars in New York. But the one thing that you can rest-assured of is that even back then, she dressed up as crazily, and outrageously as now – although in less expensive clothing! Let's take a look at Lady Gaga's top outfits over time:
1. The Egg
Lady Gaga got down to making headlines the moment that she arrived at the 2011 Grammy Awards – INCUBATED IN A GIANT EGG. Although it was basically part of her music performance for the night, it was nothing short of being labelled as one of her weirdest, craziest ensembles!
2. The Meat Dress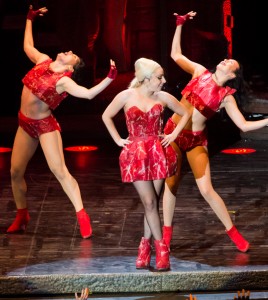 Amongst Lady Gaga's countless crazy collections, her VMA meat dress actually happens to be the most controversial dress that she has ever worn. If truth be told, Lady Gaga actually made jaws drop at the 2010 Video Music Awards with this, 'meaty' dress of hers – why wouldn't she, it was made out of REAL MEAT!  Weighing in at around forty pounds, Lady Gaga claims that it is one of the most comfortable clothes that she has ever worn.
3. Bubble Dress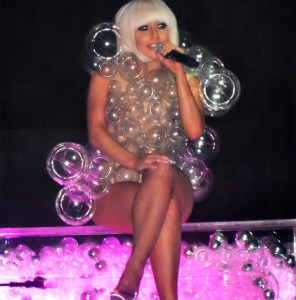 The bubble dress was worn by the queen of crazy couture on tour while she promoted her debut album, which went by the name of The Fame. No, if you are thinking that the dress was prepared using real bubbles, it wasn't. Instead, it was prepared using PLASTIC BALLS! What could have inspired her to dress in such a, umm, weird dress? Well, according to Lady Gaga, the look was inspired by one that she fell in love with at Hussein Chalayan's 2007 fashion show. She couldn't really afford it back then, so she got around to re-creating the look for her show! But seriously, plastic balls?!?
4. Jo Calderone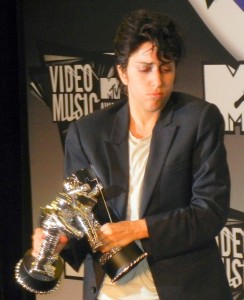 Jo Calderone is basically this lovely lady's male alter ego, and she dressed for it during the 2011 MTV VMAs. Believe it or not, but she stayed in this character of hers all through the night for the awards. If you want to take a look at this character of hers, do check out her You and I video!
5. Kermit coat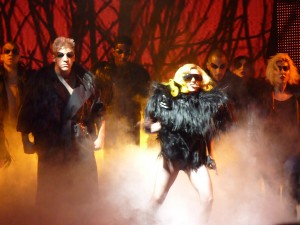 You got that right – Lady Gaga has actually worn a coat made out of countless heads of the muppet show character Kermit the Frog! The coat hung dozens of the frog's heads and she wore this during an interview with a German television show.