Top 5 Eminem songs
On 'Public Service Announcement,' the introduction from 1999's 'The Slim Shady LP,' Eminem's real name debut collection, the storyteller tells audience members that the perspectives expressed within the forthcoming album were warped. Nearly 15 years into a career highlighted by his being the best-selling artist in rap history, Eminem has made good on that promise by delivering some of the most controversial selections in the history of the genre — material that has gotten him protested by civil rights groups and embraced by (much of) the artistic community.
With the Detroit rapper set to return November 5 with his new album, 'The Marshall Mathers LP 2,' we take a look at Eminem's top five songs. Yes, they're tales from the darkside. But Eminem shines brightest when he shares his darkest thoughts. So yes, just in time for Halloween.
5. 'Guilty Conscience'
On his major-label debut album, 1999's 'The Slim Shady LP,' Eminem teams with Dr. Dre for a conceptual marvel. In each of the song's three verses, Eminem plays a character with bad intentions — including a construction worker who catches his wife cheating and is about to kill her – only to be rebuffed at every turn by Dr. Dre, who plays each character's conscience. Yet Eminem's arguments prove too potent in the final verse, when Dr. Dre's character gives in to Eminem's rationalization to off his cheating wife and her boyfriend. 'Guilty Conscious' hints at the type of lyrical sorcery that would become the hallmark of Eminem's better material.
4. '97 Bonnie & Clyde'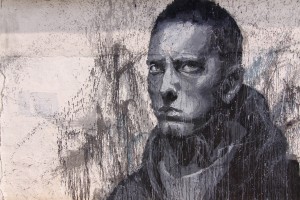 Eminem set the stage for some of his most gripping material with this chilling cut from his major label debut album. Here, he raps with a fatherly tenderness to his daughter. But this is no children's story. Rather, Eminem sprinkles baby talk and nursery rhymes into a story where he's transporting the body of his daughter's mother to her grave at the bottom of a lake – all while his daughter joins him at every step of the journey. It's a different type of love song, one from a murderous father to his infant daughter.
3. 'Kim'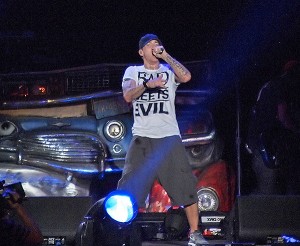 On this disturbing prequel to '97 Bonnie & Clyde,' Eminem details the fictitious events that led up to the gruesome murder. As he steers his vehicle toward Kim's final destination, Eminem vacillates between the rage of a scorned lover and a man reminiscing on the best moments from his relationship with the love of his life — all before explaining to his victim how he's going to get away with murdering her.
Eminem makes the impact of '97' Bonnie & Clyde,' 'Kim' and 'Stan' all the more profound by connecting them to one another in various ways without compromising the merit of any of the songs individually. Now that's the art of storytelling.
2. 'Cleanin Out My Closet'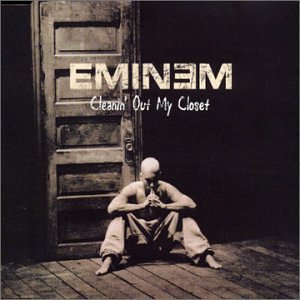 With the song's opening lines – "Have you ever been hated or discriminated against" – Eminem makes a connection to every person on the planet before revealing some of the personal torment that helped create his artistic angst. He describes looking at his daughter and how he can't imagine why his father turned his back on him and his family when he was just a few months old.
After acknowledging some of the mistakes he's made in his own life, the Detroit rapper unleashes an assault on one of his favorite targets, his estranged mother. He talks about how phony she is, how she won't see his daughter Hailie (not even at her funeral) and how his mother told him she wished he were dead. It's a striking, powerfully painful look into the personal torment that spawned one of rap's best writers.
1. 'Stan'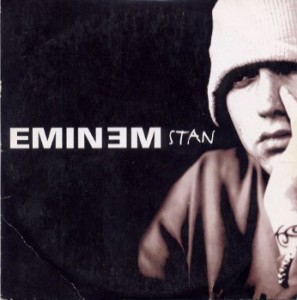 In a career defined by remarkable lyrical moments, Eminem's best song doesn't dazzle with its line-for-line potency, but through its overall wallop. On this standout selection from 2000's 'The Marshall Mathers LP,' Eminem crafts a remarkable story about an overzealous fan, who writes him increasingly urgent fan letters that go unanswered, pushing the fan 'Stan' to act out some of the most garish lyrics from Eminem's 'The Slim Shady LP' and kidnap his girlfriend before getting in a fatal car crash during his final rampage.
When Eminem writes the fan back, he cautions him again taking his lyrics too seriously and encourages him to get counseling for his anger issues. Eminem closes the song by revealing that he realizes the fan he's writing was also the one who had killed himself by acting out some of his lyrics. It's a stunningly insightful look at stardom and our society's tendency to take our infatuation with celebrity and celebrities too far.